Data centers, connection and technology
Our redundant hosting infrastructure in Frankfurt am Main (Germany) is the first choice for mission-critical data and application. As one of the best networked hosting providers in Germany, we host sophisticated solutions for our customers in Europe's most networked location.
Certified high-security data centers in Frankfurt am Main
All data centers we use meet the highest requirements and are certified to ISO / IEC27001 information security and undergo a rigorous testing procedure every year. Currently, the following certifications exist:
ISO 27001 Information Security Management

ISO 22301 business continuity management

PCI DSS Payment Data Security-Standard
ISO 9001 quality management

ISO 14001 Umweltmanagement

ISO 50001 energy management
Energy efficient, 100% renewable energy
An energy-saving, modular architecture with free-cooling air conditioning units and highly efficient individual components ensure high energy efficiency and low CO2 emissions. All our locations in Frankfurt am Main are supplied with 100% renewable energy.
Performant, safe and available
The modern data centers we use are designed for the failsafe operation of critical applications, data and systems. These include u.a. redundant power supply and air conditioning with outsourced service areas for cooling and power. Our hosting locations are reliably secured and monitored around the clock.
High availability through redundancy
By running multiple independent campus locations, we can efficiently realize highly available hosting in two or more locations.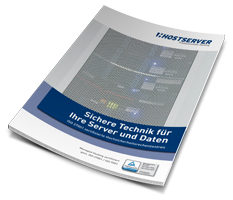 Overview:
Data center campus certified / audited according to ISO 27001, ISO 22301, SOC2, ISO 9001, ISO 14001, PCI DSS
Environmentally friendly </ strong> through 100% renewable energy
Safety and availability </ strong> thanks to the latest air conditioning, electricity and safety technology
Best networking </ strong> thanks to highest carrier density in Europe (DE-CIX)
24/7 monitoring </ strong> and on-site security personnel
Fast connections and high network quality
With over 900 peering, we offer one of the best connections in Germany for the secure, fast and reliable accessibility of your servers, applications and data.
Hohe Verfügbarkeit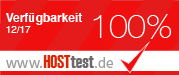 The high quality and availability of our connection is reglm. through independent tests, etc. confirmed by hosttest.de.
Top spot with over 900 peering
The high number of peerings of Hostserer GmbH and our presence at several Internet nodes assures our customers optimal short delivery times and a high connection quality including improved data protection and better protection against IP and route hijacking compared to a pure transit connection.
With currently more than 900 peerings and our presence at the Internet nodes DE-CIX, AMSIX and E-CIX, we are among the best "peered" hosting providers in Germany, as the evaluation of Hurican Electric on bgp.he.net shows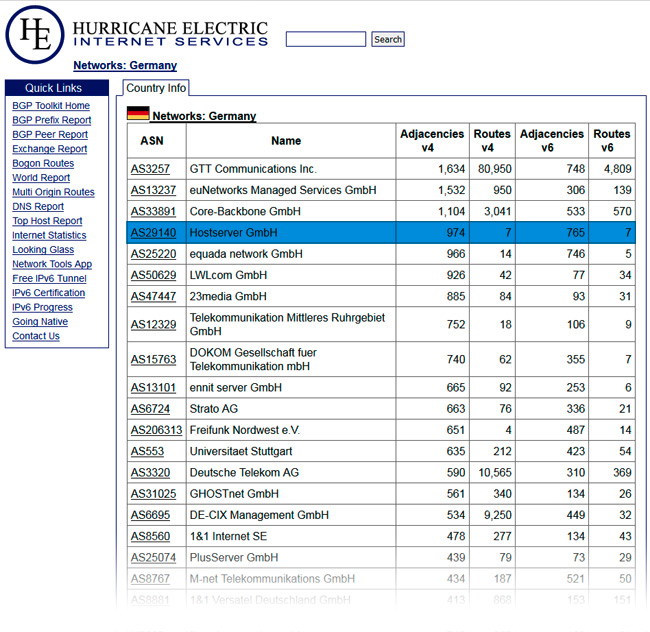 Prominent peering partners
Through our open peering policy and the long-standing presence at important Internet nodes, we have peerings to many well-known and important network operators like:
1&1,Versatel, Strato, Microsoft, Google, Amazon, Netflix, …
and over 900 other providers from Germany and Europe.
Selected transit partners
We supplement our connection with selected and innovative transit partners i.d.R. have a worldwide network.
We use state-of-the-art routing techniques such as "selective blackholing" to protect our infrastructure and our customers.
All information in particular on AS, Bandwidths, Participants, Peering, etc. Status: September 2017
---
---
---
---
---