Managed Hosting
Providing reliable and innovative solutions for 18 years
Hostserver GmbH is one of the leading providers of individual server solutions (managed hosting) for agencies and companies in Germany. From planing, setup, testing and optimization for your performance and security demands we offer processes and services tailored to our customers requirements. 18 years of experience and comprehensive certifications make us the ideal partner in areas such as compliance, data protection and security and hight availability.
Managed Hosting
Flexible, available with 24/7 service and support
Individually tailored to the customer's needs, our hosting solutions encompass the complete supervision of your servers, applications and data, including monitoring, security updates, back-up and 24/7 service and support. Consequently, you can realise your internet projects without your own hardware, technology and hosting know-how..
Availability, compliance, privacy
As one of only a few companies worldwide, the core processes Managed Hosting, Service Management and Customer Support are certified according to DIN ISO / IEC 27001: 2013 and DIN EN ISO 9001: 2015 by TÜV Rheinland. Comprehensive data protection and individual order data processing (ADV), facilitate the use of services and services in the corporate and enterprise environment.
From planning to operation
We analyze your requirements and develop a hosting solution according to your needs and budget. From the analysis through the planning, construction, operation to the replacement or termination, we offer on request ITIL compliant service management by certified employees.
IT outsourcing, data center operations
We take over the partial or complete operation of your central IT infrastructure, including all administrative work. Local data centers, site networking including encryption and monitoring, redundant and secure external connections for data centers and locations throughout Germany.
Certifications
Hostserver GmbH is a supplier of individual managed web hosting solutions and IT projects with special focus on IT security, quality, compliance and data protection.
Hostserver GmbH is one of the few companies in the world to be certified in accordance with DIN ISO/IEC 27001 and DIN EN ISO 9001in the core processes name service, domain service, managed hosting and customer support.
---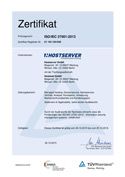 ISO/IEC 27001 Information Security Management System ISMS
ISO 27001 is the leading international standard for Information security. Hostserver has been certified since 2012 in accordance with ISO 27001. The certification includes the core processes managed hosting, domain and name service as well as customer support.
---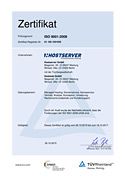 DIN EN ISO 9001 Quality Management System QMS
ISO 9001 is the international standard for quality management systems. Hostserver has been certified in accordance with ISO 9001 since October 2011. The certification included the core processes managed hosting, domain and name service as well as customer support.
---
IDW PS 951 Auditing the Internal Control System (ICS)
Our internal control system is audited annually by a certified public accountant. IDW PS 951 audited. In doing so, we meet even the demanding requirements of listed companies and banks when outsourcing business processes.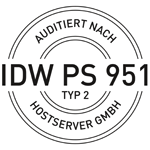 ---
ITIL – IT Infrastructure Library
Our service managers are certified and certified according to "ITIL v3 Foundation". ITIL stands for "IT Infrastructure Library" and is a best practice collection for the organization of an IT service company. Internationally, ITIL is now considered the de facto standard for IT service companies.

---
Compliance, Data protection, contract data processing
Comprehensive data protection and individual contract data processing simplify the use of our services in the field of business and enterprise.
Security for Servers and Data
Companies who demand the highest standards choose our servers and web hosting solutions due to their reliability and speed.
---
---
---
---
Further information can be found at: www.hostserver.de
Our Partners
Our memberships and partners
Ripe NCC Member

We are a member of RIPE NCC, the central IP address administrator in Europe. We operate our own networks as well as our own autonomous system (AS).
Link: www.ripe.net

eco – Verband der deutschen Internetwirtschaft e.V.

We are a member of the Association of the German Internet Industry.
Link: www.eco.de

DE-CIX

One of Europe's largest Internet exchange points with over 700 national and international carriers.
Link: www.de-cix.net

DENIC eG

We are official member of the DENIC eG registry for .de domains.
Link: www.denic.de

.eu Registrar

We are official .eu-Registrar.
Link: www.eurid.eu

IBM PartnerWorld

We are an IBM Business Partner and part of IBM PartnerWorld.
Link: www.ibm.com

Linux Professional Institute

We are "LPI Approved Partner".
Link: www.lpi-solution.eu

| | |
| --- | --- |
| 2016 | Successful auditing according to IDW PS 951 |
| 2015 | Connection to ECIX, over 800 direct and route server peering |
| 2013 | ITILv3 certification of our IT-Service-Manager |
| 2012 | ISO 27001 certification |
| 2012 | Hostserver becomes "IBM Business Partner" |
| 2012 | Hostserver becomes "LPI Approved Partner" |
| 2012 | Dorit Richter joins DENIC eG's Technical Advisory Board |
| 2011 | ISO 9001 certification – Hostserver gains five new employees |
| 2010 | Office opens in Berlin |
| 2009 | The Marburg location is expanded by another floor |
| 2009 | Move into the Interxion Data Center FRA5 in Frankfurt/Main |
| 2009 | Hostserver joines OpenCarrier |
| 2007 | Marcus Schäfer becomes honorary member of the DENIC eG Board |
| 2003 | Hostserver joins RIPE NCC |
| 2002 | Hostserver joins DENIC eG |
| 2000 | Hostserver GmbH is founded |
| 1999 | The first member of staff is recruited – and still works for us to this day |
| 1998 | Foundation of Wyneken and Schäfer GbR in Marburg |